This homemade guacamole recipe is easy, authentic, fresh, and packed with tons of flavor, garlic, onion, tomato, jalapeno, cilantro and spices mixed in with delicious avocados. This is the best guacamole recipe ever. It will be your go to appetizer or add on with your favorite Mexican food!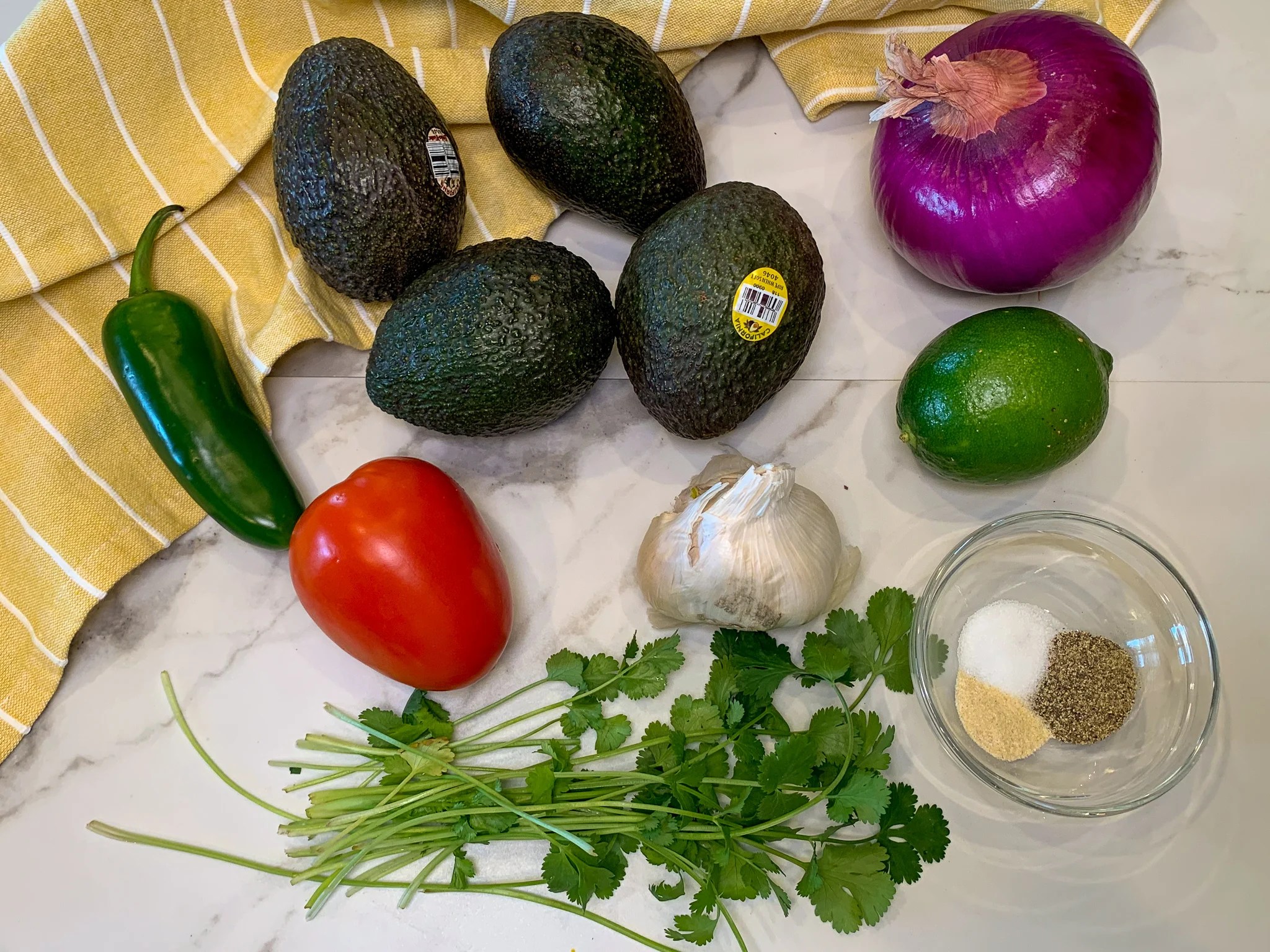 The Best Homemade Guacamole
The key to a great tasting guacamole is choosing the right avocados. You need to make sure that they are ripe and not bruised. The best way to check if they are ripe is the color. Dark green avocados are more ripe. Lighter green avocados are under ripe. The other way that you can tell is if the avocado firm, it's not quite ripe. If the the avocado is mushy it's over ripe and will not work well with the guacamole.
The other key to making an authentic guacamole is the Jalapeno. A lot of people shy away from the jalapeno, but it adds so much depth and flavor. They key to not having a spicy dip is removing the seeds from the jalapeno. The seed is where most of the heat comes from.
Fresh Guacamole Ingredients
Avocados
Roma tomato
Red onion
Jalapeno
Cilantro
Garlic
Limes
Onion powder
Salt
Black pepper
How To Make Homemade Guacamole
First, you will need to cut the avocados in half and remove the seed. The easiest way to remove to seed is to strike the seed with a sharp knife. This will allow you to to wiggle the seed out. Next, you will need to scoop the avocado from the peel. The easiest way to do this is with a large serving spoon. You will work it around the outer edges working your way to the center. Then, place them into a medium sized bowl.
(Note – The full printable recipe is at the bottom of this post)
Next, you will want to mash the avocado. I find the using a potato masher or pastry cutter works best. But if you do not have either of these a fork will do just fine. You will mash the avocado's until it has reached the texture that you like. (I like mine a little more on the smooth side)
Then, you will add the remaining guacamole ingredients : Roma tomatoes, red onion, cilantro, jalapeno, garlic, fresh lime juice, onion powder, salt and black pepper.
Last, you will mix all the ingredients together and serve with your favorite Mexican dish or fresh tortilla chips
How To Ripen Avocados Faster
The best way to speed up the ripening, is to store them in a warm place. A window sill is a great place to get a little extra heat during the day. If you are not ready to use your avocados immediately. Store them in your fridge and this will slow the the ripening process.
The second way that you can speed up the ripening process, is to place them in a paper bag with a fruit such as a banana or apple. As these fruit ripen the release a gas that will cause the avocado to ripen.
If you you have any other tricks on how to ripen an avocado. We would love for you to tell us in the comments down below.
Homemade Guacamole
This is the best homemade guacamole! It has the perfect amount of flavor and is quick and easy to make. It is perfect as an appetizer for a party or a side dish for your favorite Mexican dinner.
Ingredients
4

ripe avocados

(peeled and pit removed)

⅓

cup

red onion

(diced)

1

large Roma tomato

( I prefer to remove the seeds)

2

tablespoons

cilantro

(finely chopped)

¼

jalapeno

(seeded and finely diced)

1½

cloves garlic

(minced)

1½

Tablespoons

ground black pepper

½

Teaspoon

onion powder

½

Teaspoon

salt

1½

Tablespoons

lime juice

(fresh squeezed)
Instructions
Remove peel and seed from avocado and add to a medium sized bowl. With potato masher, pastry cutter or fork mash avocados to desired consistency.

Add Roma tomatoes, red onion, cilantro, jalapeno, garlic, fresh lime juice, onion powder, salt and black pepper.

Mix all ingredients together. Best served fresh.
Notes
Make to sure to rinse all the vegetables before cutting them up
You can easily double and triple this recipe for larger gatherings
Nutrition
Calories:
287
kcal
Carbohydrates:
14.9
g
Protein:
3.1
g
Fat:
26.2
g
Saturated Fat:
5.5
g
Sodium:
205
mg
Fiber:
9.6
g
Sugar:
2.1
g
Calcium:
22
mg
Iron:
1
mg
HAVE YOU TRIED THIS RECIPE?
RATE and COMMENT below! I would love to hear your experience. Getting feedback from you helps me and other readers too!
Also, if you share on INSTAGRAM, use the hashtag #modernmealmakeover and tag me (@modernmealmakeover) so we can stop by and give your post some love. Thank you!
Some Other Great Appetizers